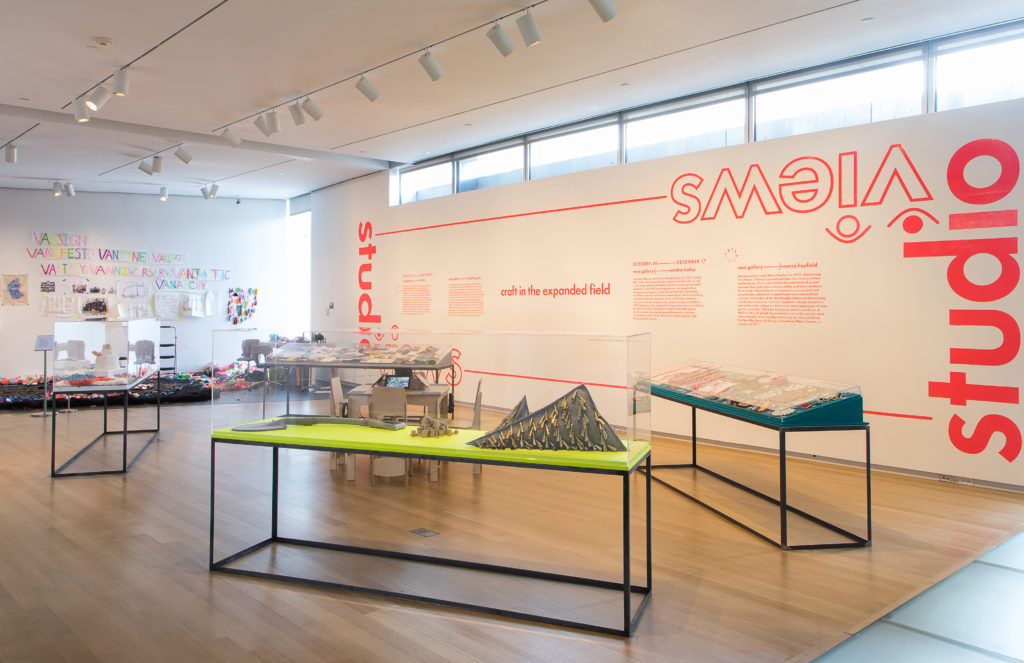 Studio Views: Craft in the Expanded Field
Featuring Xenobia Bailey, Maria Hupfield, LJ Roberts and Sarah Zapata
Co-curated by Carli Beseau and Danny Orendorff
August 22, 2017 to January 7, 2018
Museum of Arts and Design
3rd Floor Galleries
Artist Websites
Xenobia Bailey
Maria Hupfield
LJ Roberts
Sarah Zapata
Select Press
– "About Town | Studio Views: Craft in the Expanded Field," The New Yorker, August 2017
– "Knitting Together the Beginnings of a Queer, Feminine Future," Zachary Small, Hyperallergic, December 2017
– "Queer Artists Sarah Zapata, LJ Roberts Use Textiles to Express Their Identities," Sophie Saint Thomas, Allure Magazine, September 2017
About the Exhibition
Studio Views: Craft in the Expanded Field features interdisciplinary artists at work on large-scale, immersive, and community-engaged installations that challenge and expand the boundaries of traditional craft-practice. Over the course of nineteen weeks, a total of four alumni of the Museum's Artist Studios Program—Xenobia Bailey, Maria Hupfield, LJ Roberts, and Sarah Zapata—will be invited back to MAD for two cycles of micro-residencies, with two artists working in the gallery at a time. Alongside the gallery-situated studios will be a lounge featuring small displays of ephemera, research materials, drawings, and studio experiments, providing the public with a deeper view into the process and transdisciplinary interests of each artist.
Studio Views also features the Point of View (POV) Gallery, co-curated by the artists, who will draw artwork and supporting materials from MAD's permanent collection in order to contextualize their work within the history of studio-craft practice. The POV Gallery highlights innovators who, like the contemporary artists creating new work at MAD, have expanded the field of craft.
Together, the studios, lounge, and POV Gallery aim to offer visitors a more in-depth, personal, and engaging look at the ways contemporary artists (and their predecessors) have used craft techniques to engage in critical conversations about identity, creative practice, and the effects of historical influence on increasingly experimental forms of artistic expression.
Photos by Jenna Bascom and Talisman Brolin
Featured Public Program
Electric Prop and Hum Freestyle Variations Studio
By Maria Hupfield with Tusia Dabrowska
Thursday, November 30, 2017
Electric Prop and Hum Freestyle Variations Studio is a twenty-minute performance piece by Studio Views artist-in-residence Maria Hupfield, presented in collaboration with artist Tusia Dabrowska. The multi-media performance incorporates scored and un-scored movement, sound, and vocalizations to intervene in MAD's third-floor galleries.
The hyperactive and multicultural setting of New York City allows for multiple and simultaneous readings of the most commonplace items and contexts by individuals whose experiences are informed differently by culture, gender, race, and class. Transforming everyday materials collected from her surroundings, Hupfield creates immersive and ever-evolving atmospheres for experience. For her performance with Dabrowska, Hupfield has created a set of industrial-felt objects and other "sound-tools" to be worn, carried, and activated throughout the piece.
Images by Heidi Bohnenkamp