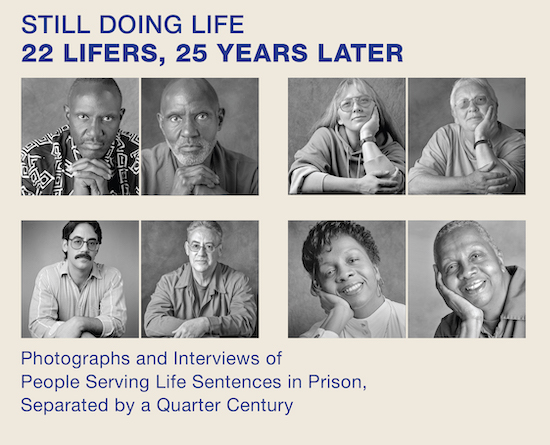 Still Doing Life: 22 Lifers, 25 Years Later
A Project by Howard Zehr & Barb Toews
Based on the Publication of the Same Name, Published by The New Press, March 2022
Organized by Danny Orendorff
Initially Presented at The Free Library of Philadelphia (Philadelphia, PA)
June 30 – August 12, 2022
Major Support from Art for Justice Fund
Full Exhibition or Exhibition Excerpts Later Shown At: Bennington College, John Jay College of Criminal Justice, University of San Diego, Ford Foundation Galleries, Vermont Law School, Centro Cultural de la Raza, University of Washington – Tacoma
About The Exhibition
Still Doing Life: 22 Lifers, 25 Years Later is a publication (published in March 2022 by The New Press) and an exhibition by Howard Zehr and Barb Toews consisting of 22 interviews and pairs of photographs taken 25 years apart of individuals serving life without the possibility of parole sentences in Pennsylvania prisons.
In 1996, Howard Zehr, a restorative justice activist and photographer, published Doing Life, a book of photo portraits of individuals serving life sentences without the possibility of parole in Pennsylvania prisons. Twenty-five years later, Zehr revisited many of the same individuals and photographed them in the same poses.
In Still Doing Life, Zehr and co-author Barb Toews present the two photos of each individual side by side. As an exhibition, Still Doing Life presents a deeply moving tableau of people who, for the past quarter-century, have been trying to live meaningful lives while facing the likelihood that they will never be free.
In the tradition of other compelling photo books including Milton Rogovin's Triptychs and Nicholas Nixon's The Brown Sisters, Still Doing Life offers a riveting longitudinal look at a group of people over an extended period of time—in this case with complex and problematic implications for the American criminal justice system.
About The Authors
Howard Zehr is a distinguished professor of Restorative Justice at Eastern Mennonite University's Center for Justice and Peacebuilding. He is the author of the bestselling The Little Book of Restorative Justice; Doing Life; and co-author, with Barb Toews, of Still Doing Life (The New Press), among other titles.
Barb Toews is associate professor of criminal justice at University of Washington, Tacoma. She is the author of The Little Book of Restorative Justice for People in Prison; the co-author, with Howard Zehr, of Critical Issues in Restorative Justice; and the co-author, also with Howard Zehr, of Still Doing Life (The New Press). Toews is the editor of the Little Books in Restorative Justice series and lives in Tacoma, Washington.