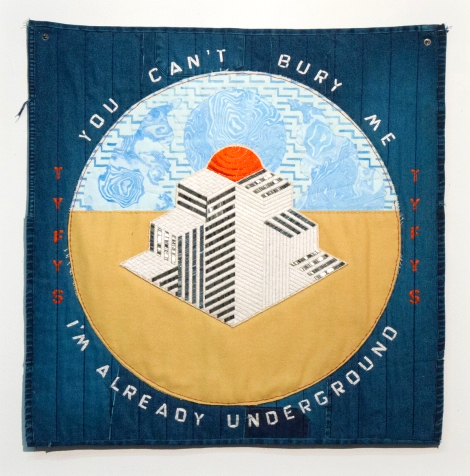 RESPONSE: Melanie Bernier
You Can't Bury Me, I'm Already Underground
Curated by Danny Orendorff
Museum of Arts and Design (NYC, NY)
May 11, 2017 to July 2, 2017
6th floor | Project Space
Artist Website
Images at bottom of page
Program
Workshops | Denim Decorating Party | June 10, 2017
About the Exhibition
In 2012, the City of Boston issued a prohibitive nuisance ordinance that effectively closed a number of music, art, and performance "show houses" in the Allston neighborhood, havens for diverse young artists exploring their creative, personal, and political identities within collectively organized community spaces located outside of mainstream culture. To memorialize the closure of these vulnerable independent venues, Melanie Bernier, a contemporary artist, musician, and celebrated fixture of Boston's punk, feminist, and do-it-yourself (DIY) communities, began creating a series of hand-sewn flags from secondhand denim and leather clothes. Each flag in the series, entitled Thank You for Your Service (2012–2016), features the name of a shuttered venue and the street upon which it was located.
Saddled with pricey fees, evictions, fabricated anonymous complaints, and other legal actions, fiercely independent venues like those to which Bernier pays tribute have been shut down or forced into increasingly precarious or unsafe circumstances across the nation in recent years. The situation is epitomized by the catastrophic 2016 fire at the Oakland, California, warehouse known as Ghost Ship that claimed the lives of thirty-six people.
That tragedy, and the subsequent targeted closures of many more spaces nationwide, makes clear the urgency for DIY communities to practice greater vigilance, protection, and care for their spaces and inhabitants. To that end, shown alongside Bernier's flags are video and audio excerpts from her current performance projects (the band Boston Cream and collaborative alternative-fitness program Punk Rock Aerobics), aligning Bernier's craft with other practices attending to mind, body, and an ever-resistant and independent spirit.
A new exhibition series presented in MAD's sixth-floor Project Space, RESPONSE is committed to exploring the many strategies through which artists, craftspeople, and designers address pressing social and political issues within their artwork and related activism. Simultaneously, RESPONSE extrapolates upon themes and techniques found within exhibitions featured on MAD's main gallery floors—in this instance, Counter-Couture: Handmade Fashion in an American Counterculture—by emphasizing contemporary creative practices that are increasingly interdisciplinary and socially engaged. The series considers the potential of art, craft, and design to inspire critical meditations and interventions upon the world around us.
Melanie Bernier is an artist and activist working in fibers, music, performance, and aerobics. An involvement in underground culture influences her artwork and projects, including Punk Rock Aerobics, an alternative aerobics class, and Boston Cream, a disco punk band. Bernier has performed or shown her work across the nation, and she has used her artwork to raise funds for tribal resistance to the Dakota Access Pipeline and in support of Planned Parenthood, Ladyfest Boston, the Boston Area Rape Crisis Center, and Girls Rock Camp Boston. Born in Hartford, Connecticut, in 1985, she is the seventh of nine children, and currently resides in Cambridge, Massachusetts. She stopped making trash in 2013.
Boston Cream was founded in 2016 with the aim of making danceable, disco-inspired punk songs. Their repetitive, sparse song lyrics respond to political events and private frustrations. The band consists of Melanie Bernier, Ryan Connelly, Peaches Goodrich, Joe Marret, and Nicholas Ward.

Punk Rock Aerobics is a 60-minute exercise class set to a soundtrack of classic punk songs co-founded by musician Hilken Mancini and artist Maura Jasper in 2000; artist Melanie Bernier was added as an instructor in 2014. Infused with humor, attitude, and the aesthetics of punk and DIY, Punk Rock Aerobics challenges the prevailing notions of fitness and conformity, and continues to function as an alternative to "gym bunny" culture. In addition to co-founding Punk Rock Aerobics, Hilken Mancini published Punk Rock Aerobics: 75 Killer Moves, 50 Punk Classics, and 25 Reasons to Get Off Your Ass and Exercise (2003), and currently works as Program Director for Girls Rock Camp Boston, which she co-founded with Nora Allen-Wise in 2010. Mancini is also the owner of the vintage clothing store 40 South St in Boston, Massachusetts, plays guitar in the bands Shepherdess and The Monsieurs (Slovenly), and has had her music and work featured in The New York Times, Newsweek, People, and Rolling Stone, as well as on MTV and VH1. Maura Jasper, an artist and filmmaker whose work explores the intersections of history, pop culture, and mass media, currently works as an Assistant Professor of Intermedia Art at Ball State University in Muncie, Indiana.
Images by Jacob Schrueger