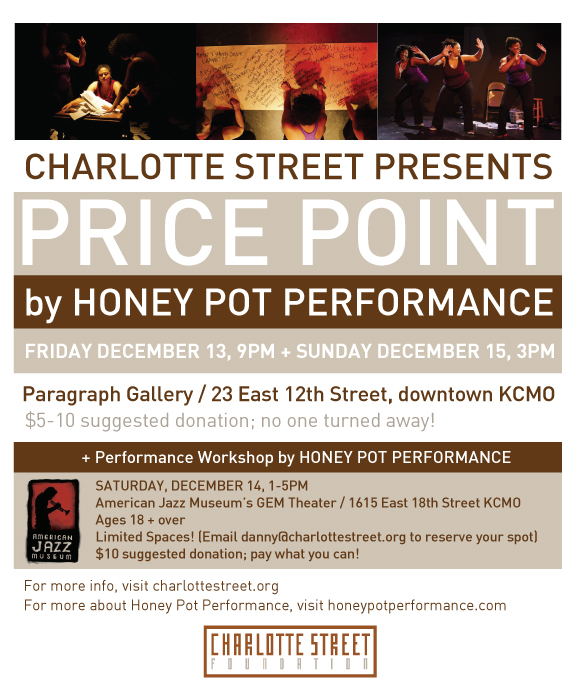 With video excerpts of their 90-minute multidisciplinary performance piece Price Point on view as part of We'll Make Out Better Than Okay at la Esquina, I invited the incredible ladies of Chicago's Honey Pot Performance out to Kansas City for two days of "Price Point" performances at Charlotte Street's Paragraph Gallery and a daylong workshop held in conjunction with the American Jazz Museum, at the historic Gem Theater.
Big thanks to poet Glenn North for his help bringing the workshop together, and to Charlotte Street's curatorial interns Derek Dobbins & Wendy Vong for running tech during Honey Pot's performances!!
SCROLL DOWN for images of Honey Pot's weekend in Kansas City and FULL VIDEO of their performance of "Price Point" at Paragraph Gallery (KC,MO) on December 13, 2013.
Honey Pot Performance is a woman-focused collaborative committed to chronicling and interrogating Afro-diasporic feminist and fringe subjectivities amidst the pressures of contemporary global life. Their work draws upon a central notion found in performance studies, black feminist discourse and sociology: non-Western, everyday popular and/or folk forms of cultural performance are valuable sites of knowledge production and cultural capital for subjectivities that often exist outside of mainstream communities.
Price Point is a 90-minute multi-arts performance project exploring notions of fairness and balance, or the lack thereof, in today's economic landscape through a mixture of the tragic and comic. The work illustrates connections between micro-stories of the economy's impact on individual psyches/souls and macro-stories of its effects on global society.
Built around ethnographic narratives set as movement, theater, and sound scores, Price Point illuminates stories of everyday citizens struggling to find a sense of direction, purpose, and value in the wake of an uncertain labor market.
At its core the work explores the abstract question, "What is the value of living?" through the lived routines, ruptures, and embodiments of people who experience our current economy's pressures and aftershocks daily.
Honey Pot Performance's trip to Kansas City was supported in part by the generosity of The Radical Diva Grant, awarded by artist Colin Self to us in the Fall of 2013.
---