Press – One day this kid will get larger
---

Programs: One day this kid will get larger



Tour and Screening: One day this kid will get larger
Saturday, January 28, 2017 | DePaul Art Museum
Beginning at 2pm, curator Danny Orendorff led a tour of the new exhibition One day this kid will get larger at the DePaul Art Museum. An exhibition which explores the ongoing HIV/AIDS crisis in North America through the lens of youth, Orendorff will discuss the themes, concepts, and motivation for the exhbition, and speak more in-depth about individual artist contributions.
At 3pm, a 90-minute program of film and video works included in One day this kid will get larger will be presented as a free-to-attend screening. Exploring a range of topics (from HIV-testing to representations of HIV/AIDS in mainstream media), this screening offers the public the opportunity to see all of the fim and video works on-loop in the exhibition in-full as a sequential program.
Program Details
– Ivan Monforte, I Belong to You, 2008 (4min, 1sec)
– Tiona McClodden, Bumming Cigarettes, 2012 (23min)
– Chaplain Christopher Jones, Theodore (Ted) Kerr, Niknaz, and LJ Roberts, Inflamed, 2016 (6min, 2sec)
– My Barbarian, Counterpublicity, 2014 (11min, 38sec)
– Chris Vargas, Liberaceón, 2011 (16min)
– Vincent Chevalier, So…When did you figure out you had AIDS?, 2010 (5min, 30sec)
– Matt Wolf, Smalltown Boys, 2003 (21min)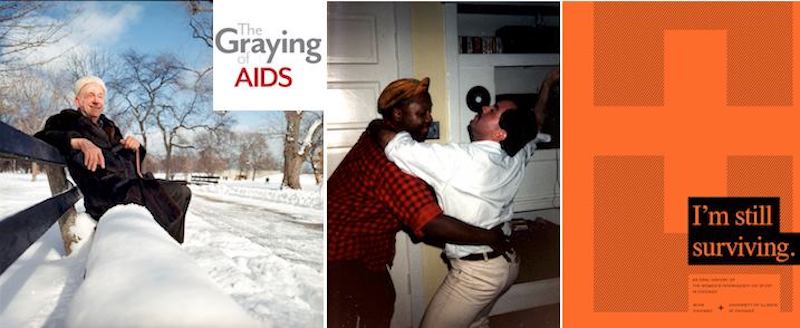 Talk + Screening: Long Term Survivors
Saturday, February 11, 2017 | DePaul Art Museum
Event moderator Charles Ryan Long
The program began with a screening of short excerpts from Katja Heinemann and Naomi Schegloff's Graying of AIDS, which combines portraits and oral histories of both long-term survivors and older adults who contracted HIV later in life with HIV/AIDS information to increase awareness, sensitivity, and collaboration among caregiving professionals.
Jennifer Brier presented on her ongoing, collaborative project "I'm Still Surviving" – a multimedia oral-history project exploring the lives of 14 women, many of whom are mothers, in Chicago who have been living with HIV for, in some cases, over three decades. An expansive exhibition of this project, In Plain Sight: A Women's History of HIV/AIDS in Chicago, opened on February 26, 2017, at the Beverly Arts Center.
Oli Rodriguez presented on his interdisciplinary artwork The Papi Project, for which the artist has combined found family photographs, images of cruising grounds, and emails between the artist and men who may have known his father, who died of AIDS-related illness in 1993.

Panel Discussion: Practices of Care
March 16, 2017 | DePaul Art Museum
Workshop: Stop HIV Criminalization, Support People in Jail
March 18, 2017 | DePaul Art Museum
"Practices of Care" brought together a group of artists, educators, community organizers, and healthcare professionals for a conversation about art, activism, and care. With a particular focus on projects that emphasize the experiences of GLBTQ youth of color, this conversation included presentations by the artists Theodore (ted) Kerr and Tiona McClodden (both featured in the exhibition "One day this kid will get larger"), as well as Chicago-based practitioners Bonsai Bermudez (Executive & Artistic Director of Youth Empowerment Performance Project) and Jacqueline Boyd (Founder of The Care Plan). Under consideration will be the limits and possibilities of visual art production to enact social and political change, the history and aesthetics of community-centered care programs, and the important role voices of youth play in shaping collective visions of the future.
The following Saturday, Theodore (ted) Kerr, founding member of WHAT WOULD AN HIV DOULA DO?, and local activists will shared information about HIV criminalization, including what you can do to support people living with HIV in jail.

Keynote and Conversation: Kenyon Farrow & Jennifer Brier
April 1, 2017 | DePaul Art Museum
Working at the intersections of HIV/AIDS activism and the movement for Black Lives, the scholar, writer and activist Kenyon Farrow offered a presentation on the correlation between AIDS activism and prison activism – highlighting the many ways in which HIV+ individuals, particularly low-income and black or brown individuals, are criminalized and incarcerated for their health status. Q&A with Farrow was moderated by historian Jennifer Brier (Author of Infectious Ideas: U.S. Political Response to the AIDS Crisis, Director of Gender and Women's Studies, University of Illinois at Chicago).
This event was organized to mark the final weekend of the exhibition One day this kid will get larger at DePaul Art Museum, which closed Sunday, April 2.

The Dead Taste Sweeter Than the Living Performance
April 1, 2017 | Alphawood Gallery & DePaul Art Museum
Performance | The Dead Taste Sweeter Than the Living (After Felix Gonzalez-Torres) by Emilio Rojas in collaboration with Paul Escriva.
A multimedia performance responding to elements in the Art AIDS America exhibition at Alphawood Gallery and the companion exhibition One day this kid will get larger at DePaul Art Museum (DPAM), The Dead Taste Sweeter Than The Living is a mobile, interactive event that took place at both art spaces with a procession in between. The project began and continues with the daily collection of pieces of candy from Felix Gonzalez-Torres' Untitled (Portrait of Ross in LA), 1991, at the Art Institute of Chicago. Rojas then used these elements in public performances to initiate a dialogue around morning, grief, celebration and the impact of loss in queer communities through the AIDS crisis.