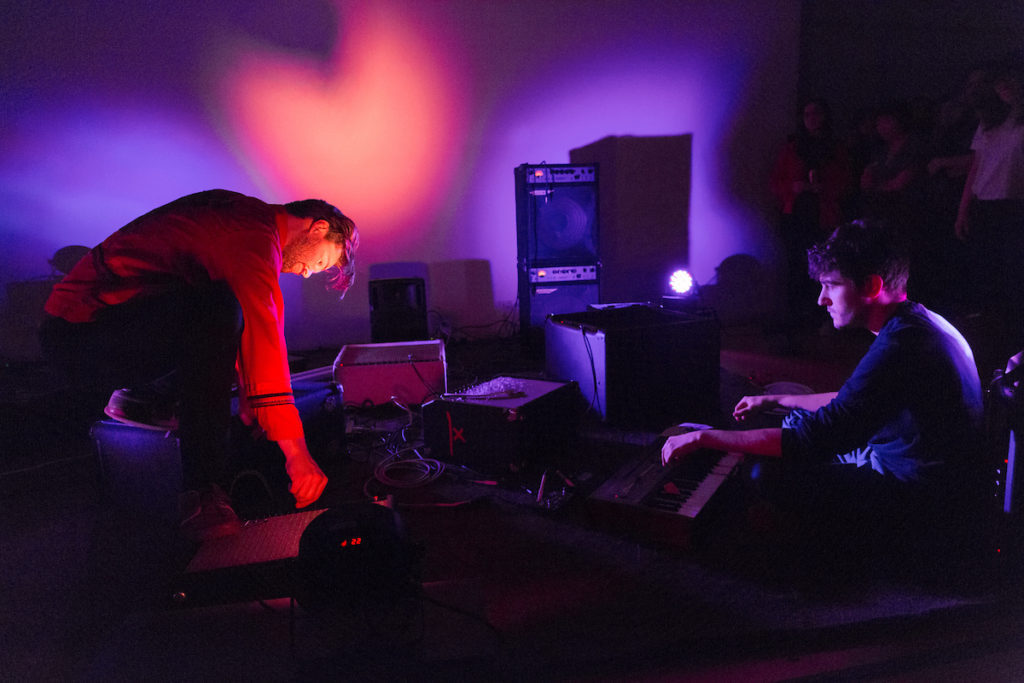 this / visitor
Muscle Memory (Steven Reker & Matt Evans)
February 10, 2018
Museum of Arts and Design
7th Floor Event Space
Featuring Ka Baird & War Bubble
Lighting & Engineering by Dan Foley
About the Performance
The band Muscle Memory features performing artist-in-residence Steven Reker and musician Matt Evans. For this / visitor, the duo will use an array of amplifiers as modular units as they add physical and spatial dimensions to their compositions, inspired by Sonic Arcade: Shaping Space with Sound. Having collected over a dozen amps from friends and collaborators, Reker and Evans will simultaneously create a dense sonic landscape while arranging, and rearranging, the amps in a number of sculptural formations.
Reker and Evans will explore the reciprocal nature between their musical compositions and the arrangement of the amps through a sequence of temporarily inhabitable moments. This process reveals how the physical organization of the equipment builds and affects sonic experiences. Ever-changing and producing multiple shifts in perception, this / visitor features acts of adaptability and endurance inspired by the physicality and instability of live performance.
Marking the culmination of Reker's residency at MAD, this / visitor features additional performances by multi-instrumetalist and vocalist Ka Baird and psychedelic sci-fi trio War Bubble.
Work in Progress
Amp Dance (one)
Steven Reker & Matt Evans
December 7, 2017
Museum of Arts and Design
5th Floor Galleries
All Images by Heidi Bohnenkamp