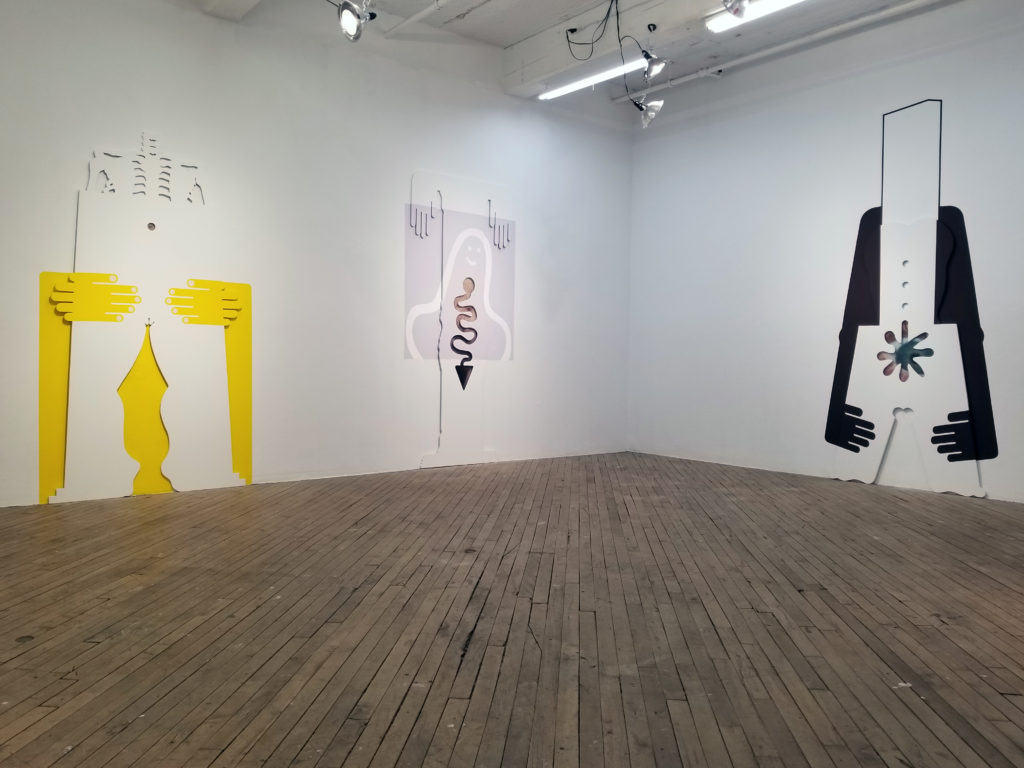 KC Crow Maddux: Everybody is a Dummy
Organized by Danny Orendorff
Vox Populi (Philadelphia, PA)
January 11 – February 17, 2019
Artist Statement
Bodies are costumes, or can feel that way to someone who has dramatically changed theirs. Being transgender, I have lived and looked like both a man and a woman. This has been both incredibly disorienting and illuminating. Though my body does not feel like the source of my decisions or behavior, how my body looks is largely determinate of how people treat me and and expect me to act. This makes no sense to me.
How does the body function as a social tool that communicates and betrays our lived experiences and also the site of embodiment; the tether between the internal, pscho-emotional and material life? The body is human, without being a person. We wear our bodies. We communicate through our bodies. Gender is an expression made physical through the use of our bodies.
I work with layered transparent photographs of my non-binary transgender body. They are a way for me to take my body off, look at it, and render it a proxy performer. These photos are both obscured and revealed by their frames.
As I don't see a relationship between a rectangular frame and my body or vision, I don't use them. Framing devices create context and therefore content; just as my body determines the format for my social experience. My frames reference religious and secular architecture, public signage, the english alphabet, and symbology surrounding the human body; authoritative arenas which often use shorthand for complicated and nuanced ideas relating to identity.
About the Artist
KC Crow Maddux is a Brooklyn based, trans artist whose work is intentionally difficult to categorize. Their pieces often layer installation, photography, painting, and sculpture together to create a "trans" format. He has recently shown in Brooklyn, Austin, and the International Cultural Center of Poland in Krakow. In 2018, she was a resident at the Wassaic Project and the Vermont Studio Program. Hir work has appeared and been written about in Forbes, Palimpsests, Yale Graduate School Literary and Arts Journal, Original Plumbing, Hyperallergic, Humble Arts Foundation, Filthy Dreams, New York Arts Magazine, and Art New City. Notable shows include All the Pretty Corpses at the Renaissance Society in Chicago, and solo exhibitions in Austin, Chicago, and Kansas City. He has upcoming solo shows at U_Haul Gallery (Brooklyn 2019) and Phosphor Project Space (Pittsburgh 2019).