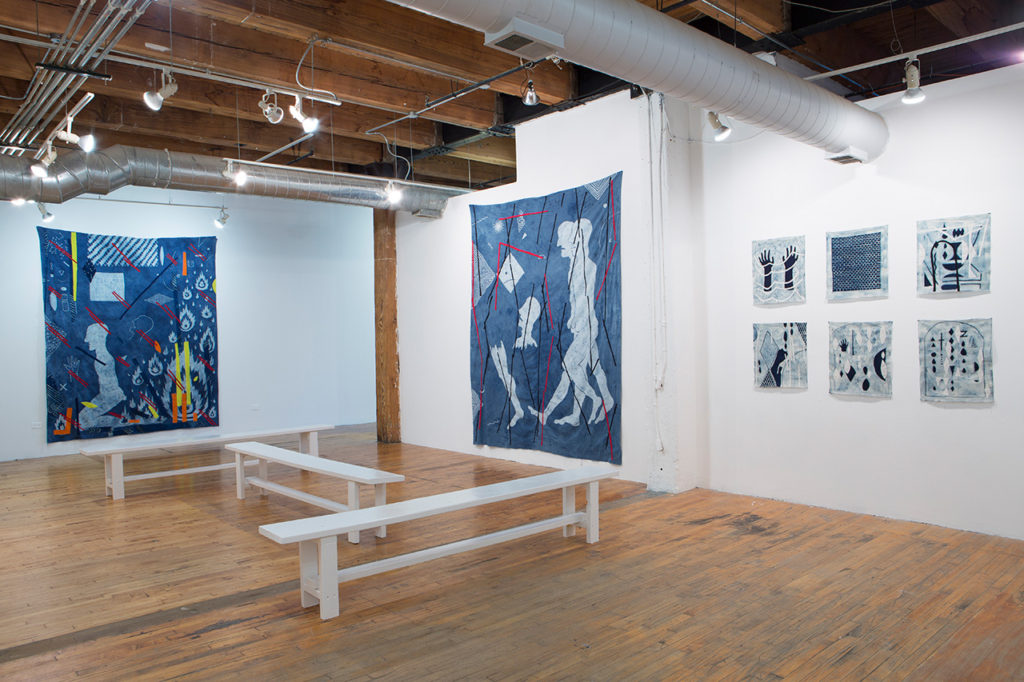 Jovencio de la Paz: Endless Flight
Curated by Danny Orendorff
Threewalls (Chicago, IL)
June 12, 2015 – August 1, 2015
Artist Website
Exhibition Essay by Kemi Adeyami
Images at bottom of page
Press
– "See Jovencio de la Paz's New Exhibition at Threewalls," Jason Foumberg, Chicago Magazine, May 2015
– "Fabrics Stained with Colonial Blues," Philip A Hartigan, Hyperallergic, July 2015
About the Exhibition
Using the specific history and process of Batik, a wax-resist dye process indigenous to many cultures of Southeast Asia, Jovencio de la Paz presents recent work dealing with the narrative possibilities of cloth for his Threewalls exhibition Endless Flight.
Integral to de la Paz's process is the social and cultural history of Indigo dye, which both in its natural and synthetic forms, is ostensibly the most utilized dye-stuff on the planet. With a rich and contentious history of trade, including the colonization of Southeast Asia and catalyzing the displacement of innumerable individuals for slave-labor in the American South, Indigo can be considered a material of migration, labor, and transition. In this way, the formal concerns of color in de la Paz's work are inexorably linked to politics of globalization, connecting both ancient and contemporary narratives of forced relocation, migrancy, and wandering.
As Rebecca Solnit has written in her essay "The Blue of Distance," Indigo and bluish fields represent atmospheres of passage, the sea and the sky, and the impossible place of the horizon, all of which reference the fugitive nature of bodies that meander over the globe.
Over-encumbered by symbols, de la Paz is developing a hybrid visual language, drawing imagery from such sources as traditional Indonesian and ethnographic textiles, comics, graffiti, quilting, and personal symbology, all of which relates to his own experience as an immigrant growing up in the United States. In the two largest bodies of two-dimensional work presented at Threewalls, "Pentagonia" (2015) and "Endless Flight" (2015), figures are presented as overwhelmed by their environments, succumbing to or moving away from powers beyond their control. "Pentagonia," which borrows its title from the epic cycle of five novels written by late Cuban writer Reinaldo Arenas, is a meditation on the space between personal and group trauma.
In the main gallery, de la Paz will also present "Under the Sign of Light" (2015), a table-scape that utilizes the horizontal nature of cloth to position the audience between the utilitarian, or lived, experience of material and its varied functions as symbol or metaphor for gathering.
Jovencio de la Paz was born in Singapore, and became a citizen of the Unites States in 1994. He received a BFA from the School of the Art Institute of Chicago in 2008, and an MFA from the Cranbrook Academy of Art, Department of Fiber, in 2012. He has exhibited work at The Museum of Contemporary Craft, Portland, OR; The Sculpture Center, Cleveland, OH; Roots & Culture Contemporary Art Center, Chicago; The Hyde Park Art Center, Chicago; MessHall, Chicago; Uri Gallery, Seoul, South Korea. among others. Currently, he is a Lecturer at the School of the Art Institute of Chicago in the Department of Fiber and Material Studies. He is also a co-founder of the collaborative group Craft Mystery Cult, established in 2010.