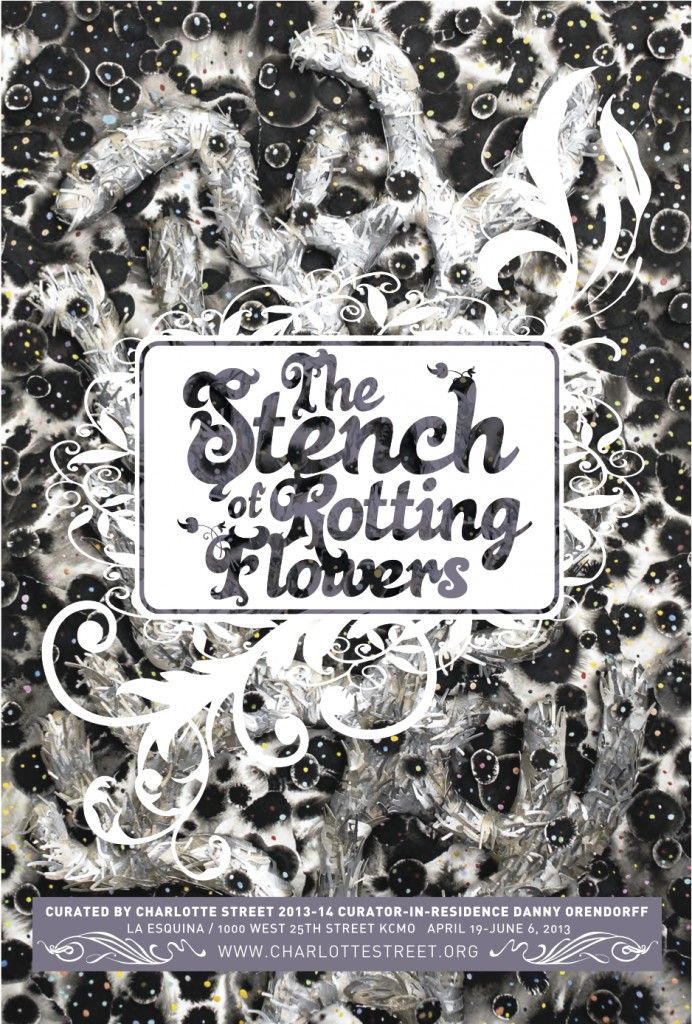 The Stench of Rotting Flowers
April 19 – June 6, 2014
Curated by 2013-14 Charlotte Street Foundation Curator-in-Residence Danny Orendorff
la Esquina (Kansas City, MO)
Opening at la Esquina April 19, 2014, The Stench of Rotting Flowers features 13 contemporary artists from around the nation whose labor-intensive and decorative artworks address and provoke such big feelings as sorrow, grief, and heartbreak. Central to the exhibition's interests are secular approaches to bereavement by feminist and queer artists, including practices that respond to death and loss through ritual, repetition, nature, and high-camp art practices.
Organized by 2013-14 Charlotte Street Foundation curator-in-residence Danny Orendorff, The Stench of Rotting Flowers is equal parts artifice and ache, as sincere as it is satiric. Download Full PR as PDF.
Featured artists: Marie Bannerot-McInerney, Elijah Burgher, Adrain Chesser, Hope Esser, Edie Fake, Rain Harris, Jesse Harrod, Peregrine Honig, Jenny Kendler, Daviel Shy, Jeff Tackett, Ashley Thomas, and Michael Velliquette
Public Program: Every Poem is a Coat Arms: A Melodramatic Poetry Writing Workshop with Daviel Shy (May 3, 2014)
View images of the exhibition.
Learn more about this exhibition on the Press & Publication page.