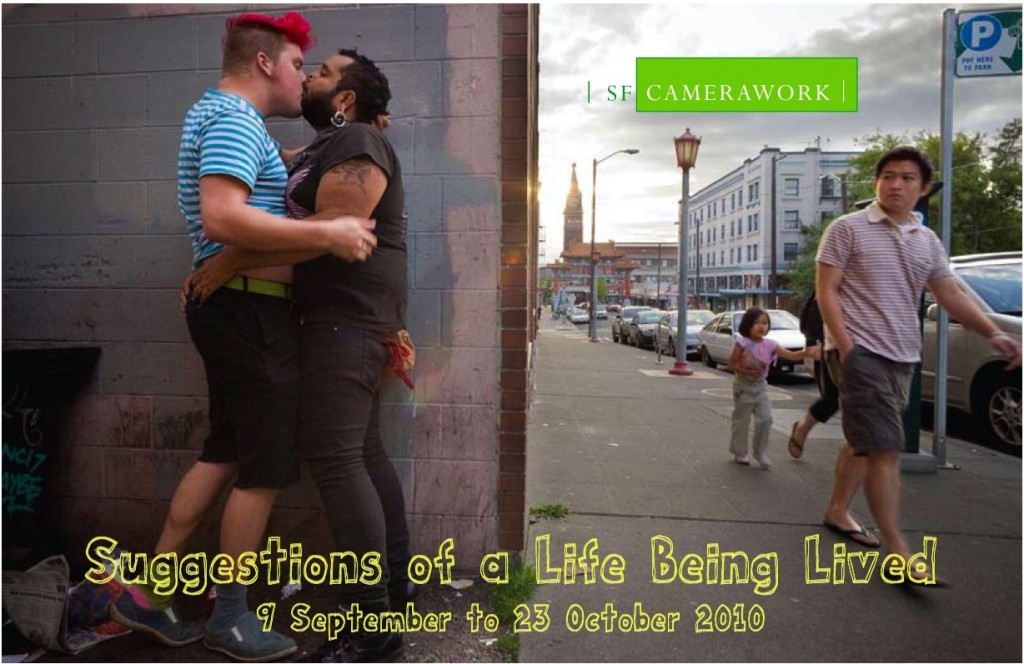 Suggestions of a Life Being Lived
Sept. 9-Oct. 23, 2010
Curated by Danny Orendorff & Adrienne Skye Roberts
SF Camerawork Gallery (San Francisco, CA)
Supported by The Andy Warhol Foundation for Visual Art & The San Francisco Arts Commission
Suggestions of a Life Being Lived is a bold presentation of contemporary work that explores queer activism, intentional and imagined communities, self-determinism, and DIY alternative world-making. The exhibition features 16 artists working in photography, film, video, activism, and education. Organized for SF Camerawork by independent guest curators Danny Orendorff and Adrienne Skye Roberts, Suggestions of a Life Being Lived looks at queerness as a set of political alliances and possibilities that exist beyond the sphere of dominant gay and lesbian culture.
Unconcerned with categorical sexual identities or coming-out narratives, Suggestions of a Life Being Lived originates from a place of "outness" and considers how a sense of liberated queerness is pursued and mediated within public spaces and behaviors. The exhibition follows three broad thematic investigations: The public sphere as a site for protest, education and affection; Self-organized communities, both intentional and imagined; Utopian, alternative worlds and the performance of self-determination
Featured Artists: Gay Shame, Lenn Keller, Killer Banshee Studios, Darrin Martin & Torsten Zenas Burns, Tara Mateik, Mercury Vapor Studios, Jason Fritz Michael, Steven Miller, Allyson Mitchell, Aay Preson-Myint, Kirstyn Russell, Jeannie Simms, Eric Stanley, Chris Vargas and Greg Youmans.
View images of the exhibitions.
Hard cover, full color, illustrated catalog featuring extended exhibition essay available.
View affiliated programs & press.