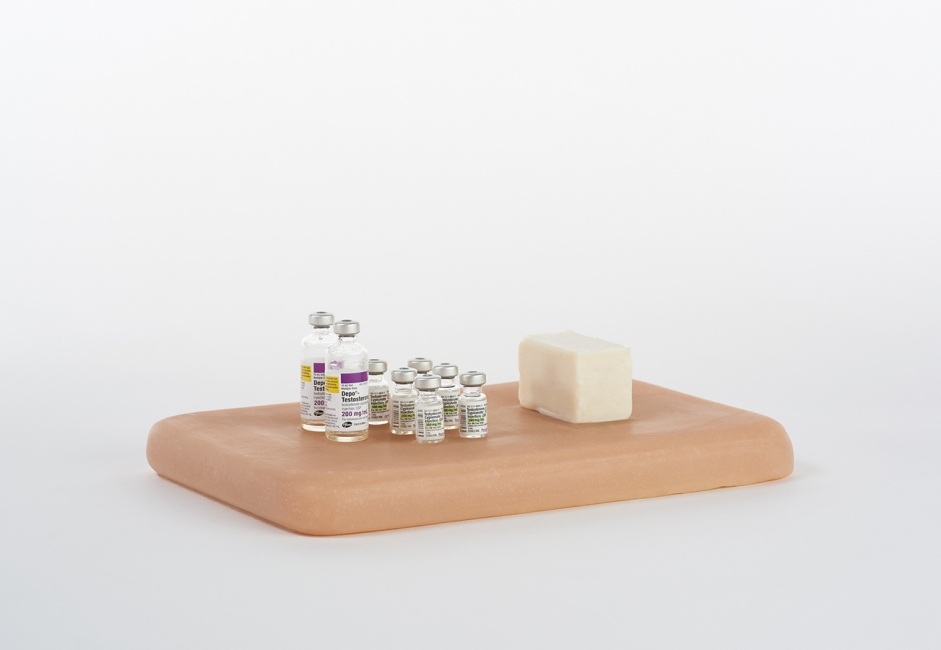 Fellow Focus: Jes Fan
No Clearance in Niche
Curated by Danny Orendorff
March 2, 2017 to April 30, 2017
Museum of Arts and Design (NYC, NY)
Project Space – 6th Floor
Artist Website
Images at bottom of page
Press
– "From a Testosterone Candle to Impossible Shoes, Meditations on Transitioning Between Genders," Danielle Wu, Hyperallergic, March 30, 2017
Program
Workshops | Feminine Presence: Biology as Craft | April 22, 2017
About the Exhibition
Reflecting on the intersections of many identities, Jes Fan questions the concept of "otherness" by creatively exploring materials and substances with social, political, and erotic connotations. Working with latex, silicone, glycerin, and injectable Depo-Testosterone, Fan's playful, poetic objects and drawings explore transgender identity, body modification, and self-determination. Critical of stereotypes and hierarchies, Fan's paradoxical creations (a limp pink silicone dumbbell, testosterone-scented candles) greet viewers as riddles, inspiring complex meditations on the conventions and inventions of gender.
On view in the 6th-floor Project Space, Jes Fan: No Clearance in Niche is the inaugural installation of the MAD Education Department's new series Fellow Focus. Dedicated to highlighting the work of alums of the Van Lier Fellowship program at MAD, Fellow Focus invites these emerging artists to showcase the artwork they produced while working in residence at the Museum as fellows. All Fellow Focus presentations are accompanied by an artist talk and workshop, allowing the public opportunities to learn more and engage with the artist's practices and experiences.
Funds for the Van Lier Fellowship are provided by The New York Community Trust Van Lier Fellowship Program. The fund provides support for talented, culturally diverse, economically challenged young people who are seriously dedicated to careers in the arts.
Jes Fan is a Brooklyn-based artist born in Canada and raised in Hong Kong, China. They have received a BFA in Glass from Rhode Island School of Design. Fan's trans-disciplinary practice is based on a material inquiry into otherness as it relates to identity politics. They are the recipient of various fellowships and residencies, such as the Edward and Sally Van Lier Fellowship at Museum of Arts and Design, Pioneer Works, CCGA Fellowship at Wheaton Arts, and John A. Chironna Memorial Award at RISD. Fan has exhibited in the United States and internationally; selected exhibitions include Whereabouts at Glazenhuis Museum (Belgium), Material Location at Agnes Varis Gallery (New York), Ot(her) at Brown University's Sarah Doyle Gallery (Providence), and Remembering Something without a Name, Chrysler Museum of Art (Virginia).
All Photos: Jacob Schuerger