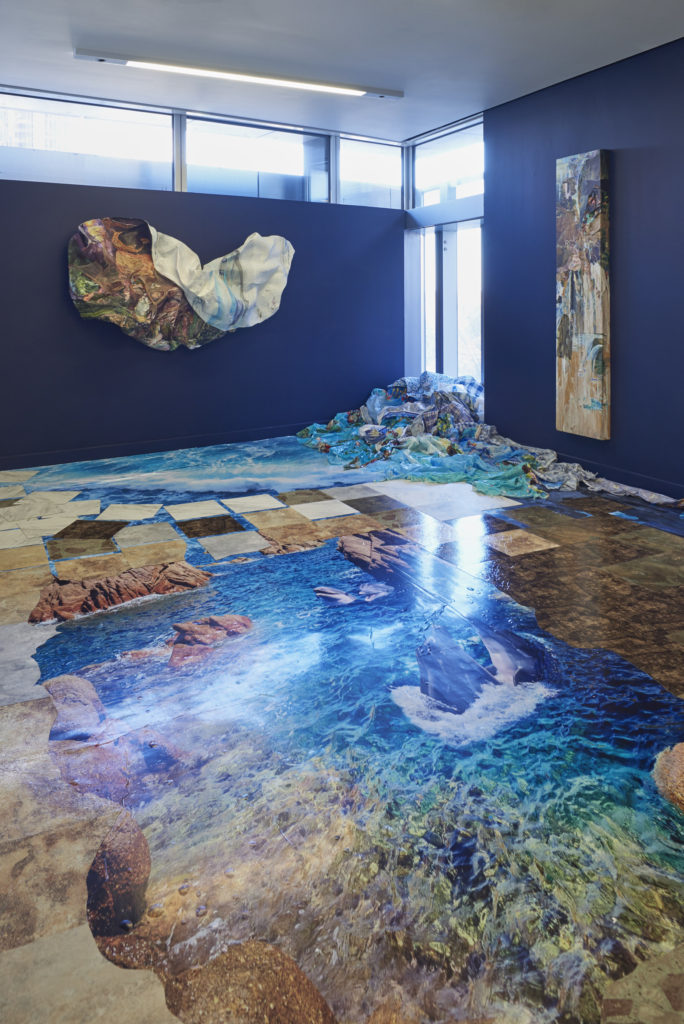 Fellow Focus: Camille Hoffman
Pieceable Kingdom
Curated by Danny Orendorff
January 18, 2018 to April 8, 2018
Museum of Arts and Design (NYC, NY)
Project Space – 6th Floor
Press
–"Around Town | Camille Hoffman: Pieceable Kingdom," The New Yorker, January 2018
About the Exhibition
In Pieceable Kingdom, MAD's Spring 2017 Van Lier Fello­w Camille Hoffman presents new mixed-media artworks that offer meditations on Manifest Destiny and its latent representation in the romantic American landscape. For her Fellow Focus exhibition, Hoffman reflects on how histories of race, gender, and power are often embedded within influential American landscape paintings of the nineteenth century through their depictions of light, nature, the frontier, and borders.
In her work, Hoffman explores the interconnectedness of her personal identity with American colonialism, environmental policy, and contemporary pop culture. Using materials collected from her everyday life, including holiday-themed tablecloths, discarded medical records, nature calendars, plastic bags, and paint, Hoffman crafts imaginary landscapes that are grounded in accumulation, personal narrative, and historical critique. Her paintings are layered geographies, in which these fragments of cultural objects are chromatically twisted and blended into complex wholes.
Taking inspiration from the Philippine weaving and Jewish folk traditions of her ancestors, along with traditional landscape painting techniques from her academic training, Hoffman interweaves image with refuse in order to reveal seamless yet textured transcultural contradictions. Disrupting visual perception, her scraps of materials take on new life, becoming a vehicle for territorial reclamation and spiritual agency for the artist amid the pressures of economic and political globalization in the Anthropocene.
On view in the 6th-floor Project Space, Pieceable Kingdom is the third installation of the MAD Education Department's Fellow Focus series. Dedicated to highlighting the work of alumni of the Van Lier Fellowship, part of MAD's Artist Studios Program, Fellow Focus invites these emerging artists to showcase the artwork they produced while in residence at the Museum. Funds for the Van Lier Fellowship are provided by the New York Community Trust Van Lier Fellowship Program, which supports talented, culturally diverse, economically challenged young people who are seriously dedicated to careers in the arts.
Camille Hoffman was born in 1987 in Chicago, Illinois. She received her BFA in Community Arts and Painting from California College of the Arts in 2009 and her MFA in Painting and Printmaking from Yale School of Art in 2015. She has worked for over a decade as an arts educator and community organizer in Phoenix, the San Francisco Bay Area, New Haven, Brooklyn, and Queens. She is a past recipient of the Carol Schlosberg Memorial Prize for excellence in painting from Yale University, a National Endowment for the Arts scholarship, and a Benjamin A. Gilman International Scholarship. Hoffman has shown throughout the United States and in Europe, in exhibitions including Music and Conversation: East of the Wallace Line at the Yale University Art Gallery and MASIVAMENTE at Espai Cultural Biblioteca Azorín in Valencia, Spain, and participated in the Nuit Blanche arts festival in Paris, France. She recently completed a yearlong residency at Queenspace in Long Island City, New York, and is currently artist-in-residence at Wave Hill in the Bronx.
Images by Jacob Schrueger