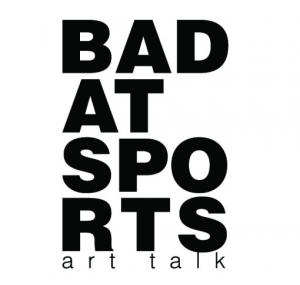 I've recently joined up with the terrific contemporary arts outlet Bad at Sports as a monthly contributor to their blog! I've been a long admirer of their ongoing podcast series of discussions with artists, curators, and other contemporary arts professionals – so am incredibly excited to be affiliated!
I've just posted my first article for them, an exhibition review of "Mythologies" at The School of the Art Institute of Chicago's Sullivan Galleries. I suppose what I'll do with off-site writing is post the first few paragraphs, and then encourage you to read the rest of the article over on the hosting site! Deal? Here goes…
"Exhibition Review: "Mythologies" at SAIC's Sullivan Galleries"
Upon entering the exhibition space of "Mythologies," an excellent showing of artwork produced by six young artists at The School of the Art Institute of Chicago's Sullivan Galleries, the eye is almost instinctually drawn to the bold, blood red palette of Rashayla Marie Brown's video installation "Puro Teatro (Coming to Theatres)." Projected large upon the far wall of the gallery, the single-shot, still-frame video elegantly documents what appears to be the meditative staging of a soon to occur evocation. Brown's hands extend from beyond the frame to light three white votive candles placed in a triangular formation on the red surface, later joined by the slow setting of a steel incense burner, rosary beads, and the black winding cord of a microphone. The video is accompanied by the tune "Puro Teatro," meaning 'pure theatre,' performed by Latin soul and salsa singer La Lupe in the 1960s. La Lupe was a known practicer of Santería at the time of the song's recording, and the romantic drama of her singing coupled with the ritualistic imagery Brown has produced certainly evokes the sensation of saints being summoned.
Indeed, preceding the video spatially are three artworks intent on making explicit the theme organizing the included artworks altogether: a contemporary consideration, and continuation, of black aesthetics from a political, art-historically informed subject-position. "Black Motif," a 7 by 6.5 foot mixed-media painting on cotton by Cameron Welch, features a golden, protruding mask in the style of African ancestral objects (or commercial knock-offs thereof) surrounded by layered, clashing colors and patterns of different kente cloths that the artist has painted asymmetrically into a patchwork composition. Neighboring the painting is "All American (Banner Series)" by Alexandria Eregbu, a triptych of bedazzled vinyl wall-hangings heralding famed contemporary black artists Kara Walker, Kehinde Wiley, and Mickalene Thomas as though they are college sports stars. Mirroring these works is "Pomba Gira (Deja Vu)," an installation by Brown replicating the aesthetic of her aforementioned video in three dimensional form, but instead featuring a vinyl LP copy of Beyonce and Jay-Z's hit song "Deja Vu" suspended over two self-portraits the artist intentionally produced in the style of Lorna Simpson.