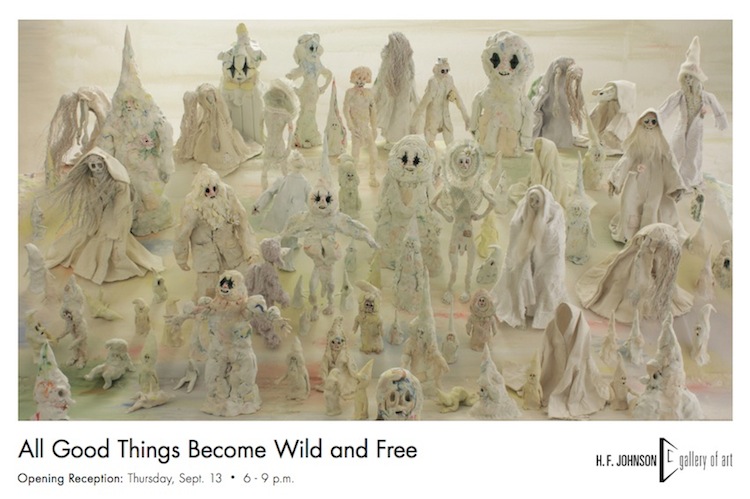 All Good Things Become Wild and Free
Curated by Danny Orendorff
HF Johnson Gallery of Art at Carthage College (Kenosha, WI)
Sept. 11-Nov. 17, 2012
Unconventional materiality, hand-wrought entities, and non-normative forms comprise this exhibition of contemporary artworks whose makers engage themes explored within current identity-based theories of culture, art, and the everyday. Set loose from hierarchical classifications of art, craft, and design, All Good Things Become Wild and Free is an unrestrainedly chromatic showcase of outrage, Eros, affection, and irreverence. Emphasizing an eclectic cartel of artistic strategies and practices, the exhibition features 19 artists working in ceramics, claymation, drawing and illustration, furniture-design, installation, painting, performance, photography, sculpture, textile, video, and ʻzines.
Organized for the HF Johnson Gallery of Art at Carthage College by independent guest curator and writer Danny Orendorff, All Good Things Become Wild & Free is a recalcitrant and expansive showcase of emerging and established artistic practices that pleasurably delight and flagrantly experiment with form, color, material, and content. The exhibition, as such, is a sequel to Orendorff's Andy Warhol Foundation supported exhibition Suggestions of a Life Being Lived, co-curated with Adrienne Skye Roberts for SFCamerawork Gallery (San Francisco, CA) in 2010. Similar to the exhibition preceding it, All Good Things Become Wild & Free follows three broad thematic investigations explored in the exhibition's accompanying catalog; Criminal Nature, Indescribable Arrangements, The 'Ick Factor.'
Featured Artists: Tanya Aguiñiga, Brandon Anschultz, Mike Andrews, Claire Arctander, Claire Ashley, Elijah Burgher, Angela Ellsworth, Edie Fake, Jesse Harrod, Young Joon Kwak, Heeran Lee, William J. O'Brien, Rebecca Mir, Lorraine Peltz, Aay Preston-Myint, Allison Schulnik, Charlie Vinz, Allison Wade, and Saya Woolfalk.
View images of the exhibition.
Full color, illustrated catalog featuring extended exhibition essay available.
View affiliated programs & press.