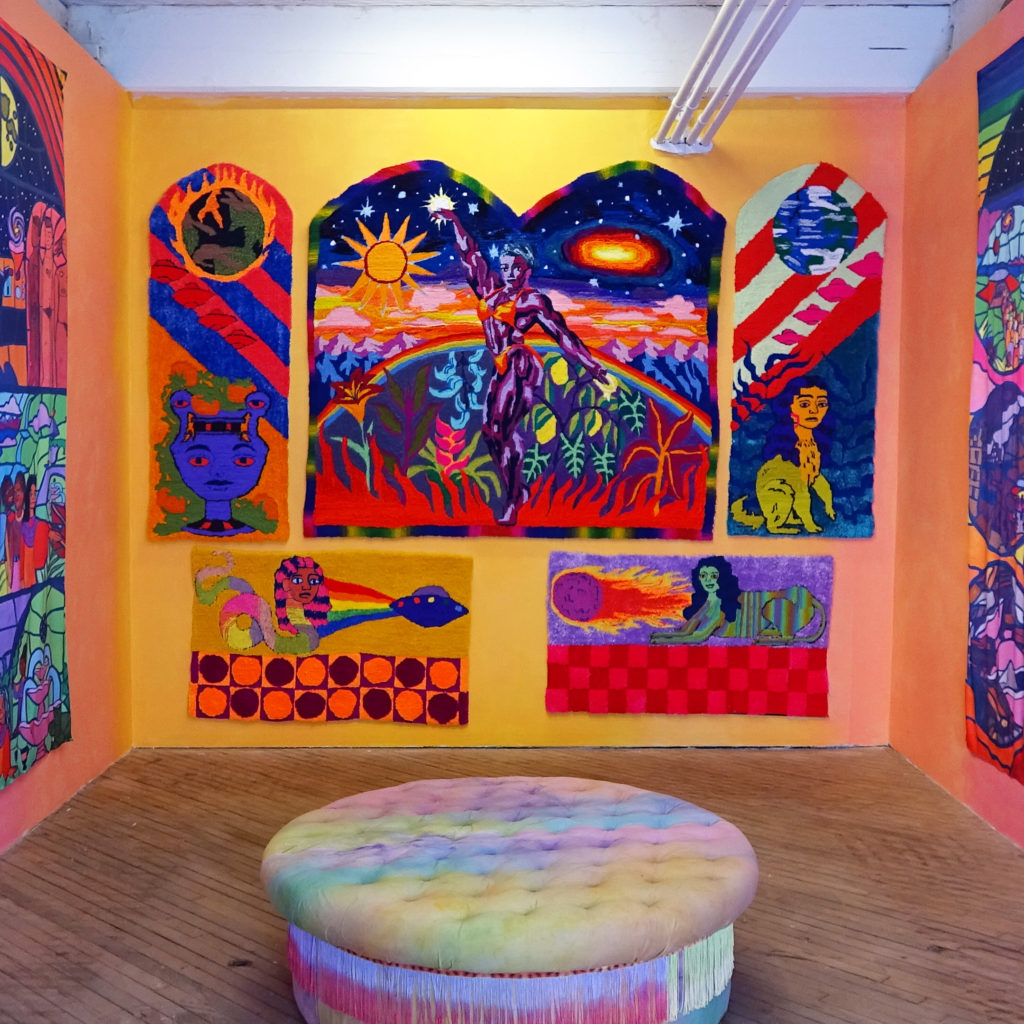 Tura Oliveira: Mundos Irrealis (Wish You Were Here)
Originating at Wave Hill (Bronx, NY)
Organized for Vox Populi by Danny Orendorff
Vox Populi (Philadelphia, PA)
November 1 – December 15, 2019
About The Exhibition
Mundo Irrealis (Wish You Were Here) uses textile pieces, altered furniture, video, and hand-painted walls to transform the gallery into a devotional space for a queer utopia. This utopia is inspired by science fiction—particularly the writings of Octavia Butler, Ursula K. Le Guin, Vonda N. McIntyre, and Marge Piercy – and takes shape on an earth no longer constrained by capitalism. Oliveira is drawn to science fiction because it "elasticizes our perception of the world as it is and, more importantly, as it could be."
The artist illustrates a complex storyline in the translucent fabrics that produce an ethereal, stained-glass effect. The textiles depict a narrative in which humans are rescued from an apocalyptic earth and transported to a paradisiacal future. When the humans return to earth, they strive to rebuild their home, only to discover that the distant "alien" utopia was, in fact, the future earth that they themselves are building. They must then travel back in time to rescue their past selves from the dystopian earth.
A series of handmade rugs are installed to form an altarpiece featuring a body-builder goddess and other mythological figures. The video A Vision of the Leisure-Dome focuses on the absence of labor—the artist and her friends lounge in a technicolor utopia. Under capitalism, the power and ubiquity of our current system seem inescapable, but Oliveira's paradise is free from these constraints. Oliveira quotes Ursula K. Le Guin: "Any human power can be resisted and changed by human beings." (Eileen Jeng Lynch)
About The Artist
Tura Oliveira is a interdisciplinary visual artist and performer based in Flatbush, Brooklyn. She uses textiles, video, installation, and performance to explore the intersections of craft, labor, gender identity, and queer futurity. Her work has been shown at the Museum of Arts and Design, Disclaimer Gallery, SPRING\BREAK Art Show, Soho20 Gallery, and Paradise Palaise. She has received awards and residencies from Yaddo, AIR Gallery, BRIC, MAD, and she is a 2019 New York Community Trust Van Lier Fellow at Wave Hill.