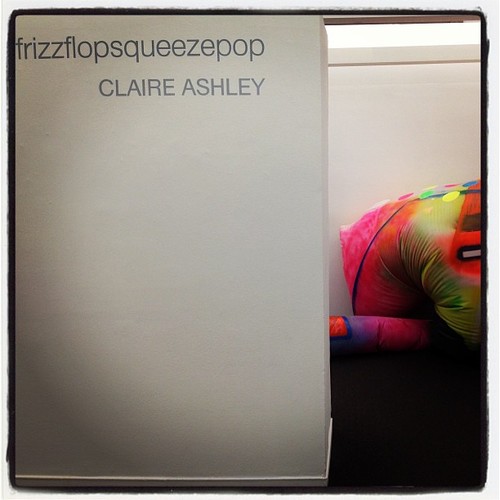 Claire Ashley is such a fascinating artist and a pure delight to work with. I had the opportunity of including 3 of her pieces in last year's All Good Things Become Wild & Free, and am so grateful to have continued to form a professional friendship with this uncommon, singular artist. In December, Claire asked if I'd be interested in writing the exhibition text for her show 'frizzflopsqueezepop' opening TONIGHT (Jan. 11) at the Chicago Cultural Center – and I, OF COURSE, said yes.
Claire will be giving an artist talk at the Cultural Center on March 7th at 12:15pm, and I'm incredibly excited about her big public performance in Daley Plaza scheduled for March 15th at noon. Titled 'Disco Dozen,' the performances features 12 painted inflatables to be worn by dancers, and is inspired by the huge Picasso sculpture permanently installed there in the heart of Chicago's downtown.
If you've not seen the inflatables in action, I highly recommend it! Ashley keeps video of a recent performances at the ACRE residency in Steuben, WI, and a dance-piece with Joseph Ravens & Victoria Bradford on her Tumblr – just a sneak peek of what's to come!!
Check out my thoughts on Claire's incredibly pleasurable & deceptively critical art practice below or by downloading the brochure!