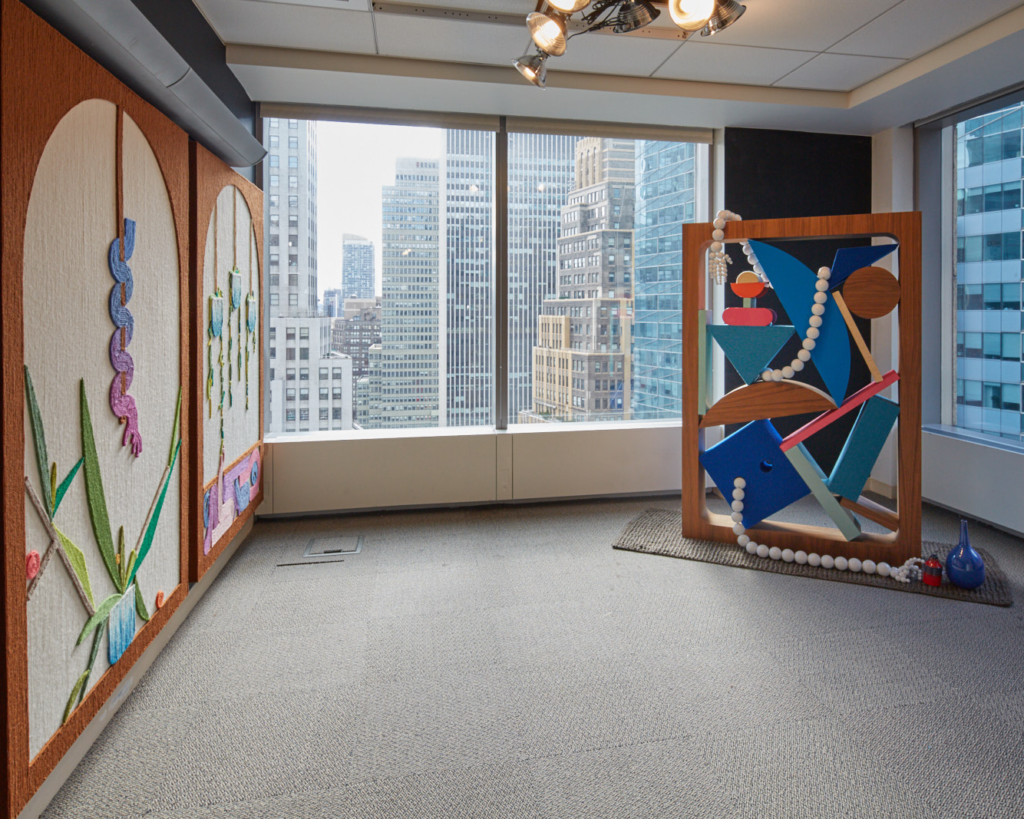 Chris Bogia: New Works
Curated by Danny Orendorff
Spring Break Art Show 2018 (NYC, NY)
March 6 – 12, 2018
Press
– "A Tour of the 2018 Spring/Break Art Show," Maximiliano Duron, ARTNews, March 7, 2018
– "Spring Break is an Oasis for Art Fair Haters," Hrag Vartanian, Hyperallergic, March 7, 2018
About The Exhibition
Chris Bogia's work reflects his ongoing interest in interior design and decorative art. Domestic objects lived with over time or desired from afar can be charged with personal meaning that often exceeds their intended use. How can that meaning be visualized?
Recent sculptures suggest furniture and decor in both scale and surface. Lacquer finishes, walnut veneer, grass cloth wallpaper, and folksy hand-laid yarn mixed with other decorative objects like scented candles and West German pottery suggest an abstraction of a specifically urbane kind of domestic interior. The modern comfort and beauty expressed in these works is precarious: the sculptures are precisely designed to be held together by only balance and tension, suggesting that even private personal utopias are fragile and easily disrupted. 
A selection of drawings from an ongoing series titled "Plants Vs Zombies" illustrate these ideas further. In these works, an ongoing conflict between two forces is depicted within the same domestic archway. The title, the flatness and even the repetitive "level design" of the archway are all inspired by Bogia's lifelong interest in video games.
Bogia has been working and showing his work in NYC and abroad for over 20 years. Recently, his work has been noticed by writers and critics at Hyperallergic, Artsy, The Guardian, and Good Trouble Magazine. He works tirelessly throughout the year as Fire Island Artist Residency's sole employee, raising the funds to provide residency and exhibition opportunities to a diverse community of LGBTQ artists, often at the sacrifice of his traditional studio work. This show represents Bogia's long overdue debut NYC solo exhibition.