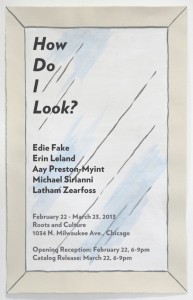 I was pleased to be asked to contribute some writing to the catalog for the recent group exhibition ' How Do I Look?' at Roots & Culture from February 22 – March 25, 2013. Featuring a few artists whose work I've either exhibited or written about in the past, as well  as some folks new to me, the show was subtle and provocative in its references to sexuality, death, interiority, and appearance. In lieu of a straightforward response to the works included, I decided instead to write something a bit conceptual, personal, loopy, and sexy.
The catalog was printed as a (very) limited edition run, but it's probably possible to still get your hands on one by contacting Aay Preston-Myint, one of the artists/organizers of the exhibition/publication.
You can download a PDF copy of my essay contribution here! Additional essays featured in the catalog are by a truly stellar bunch of artists/writers: Claire Arctander, Rami George, Sofia Leiby, and Bert Stabler. Featuring work by Edie Fake, Erin Leland, Aay Preston-Myint, Michael Sirianni, and Latham Zearfoss, here's some copy from the press-release for the show for a bit more background. Enjoy!
"How Do I Look? is a group exhibition of drawing, photography, video, and three-dimensional works engaged in the strategic deployment of fantasy, confession, and voyeurism. The five artists in this show are together concerned with the physical construction of interiority, the confinement to oneself that nevertheless has a public appearance, and among other things, the richness of erotic encounters and their spatial dynamics. Employing sidelong glances, coded gestures and secret language, both in tactics of display and in attitude, the artworks of How Do I Look? continue both the feminist project of de-neutralizing domestic space and the queer project of de-pathologizing promiscuity."