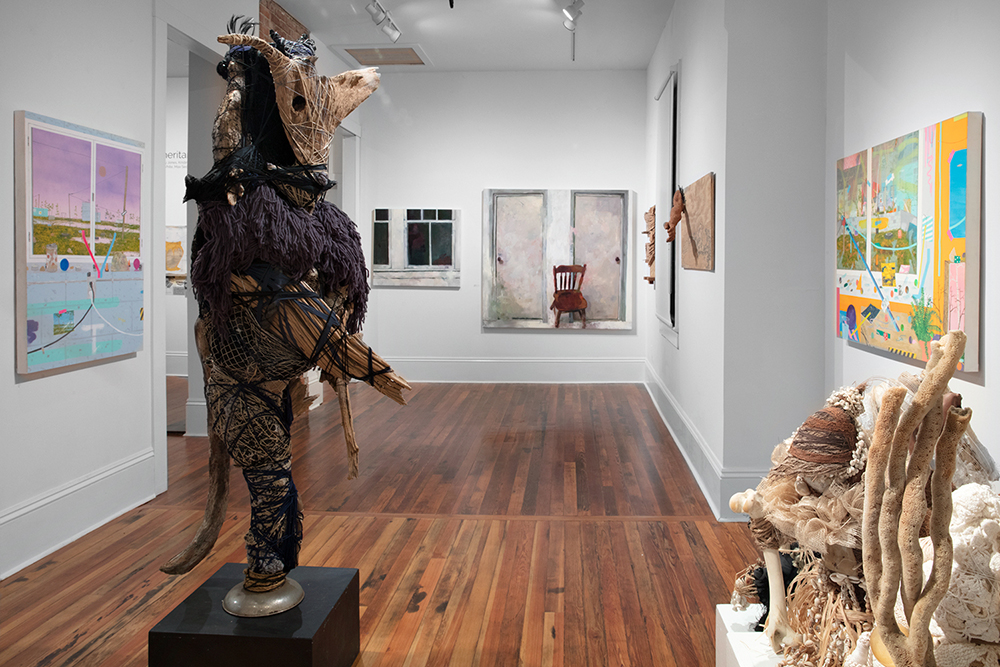 Interiors, Icons, Inheritance
Louisiana Open Call 2017, Cycle 1
Curated by Danny Orendorff
September 9, 2017 to October 8, 2017
Antenna (New Orleans, LA)
Featured Artists: John Barnes, Paige DeVries, Ariel Jackson, Jeremy Jones, Kristin Meyers, Catherine Nelson, Jessica Peterson + Sara White, Max Seckel
Pleasure, Performance, Politics
Louisiana Open Call 2017, Cycle 2
Curated by Danny Orendorff
October 14, 2017 to November 5, 2017
Antenna (New Orleans, LA)
Featured Artists: Chris Berntsen, Jason Childers, David Colannino, Jenna Knoblach, Avery Lawrence, Erica Lambertson, Colin Roberson, Maxx Sizeler
About the Exhibitions
Interiors, Icons, Inheritance and Pleasure, Performance, Politics each features eight artists selected from Antenna's annual Louisiana Open Call, juried by Danny Orendorff in 2017.
Interiors, Icons, Inheritance features artists who explore their personal and collective histories in their work. Rich with character and dense with detritus, their works depict the architecture, landscapes, people, and materials – the very stuff – of New Orleans. Sometimes somber, always eclectic; the tough, honest, and grainy visions of personhood and place featured in Interiors, Icons, Inheritance reveal a shared interest in the grit and physicality of living, working, and artmaking in the American South.
Pleasure, especially when performed or represented publicly, is always political. The eight artists featured in Pleasure, Performance, Politics utilize color, language, scale, and representational media like photography and video to explore the complexities of culture, philosophy, and identity. Fearlessly addressing such issues as gender, sexuality, race, and economics, the artists included in Pleasure, Performance, Politics embed nuanced critiques within an often joyful aesthetic. Drawing a viewer into the work through the visual and aural affectations of humor, leisure, and lust, these artists present bold and often hyper-chromatic visions of our political pasts, presents, and potential futures.
Images: Interiors, Icons, Inheritance
All Images by AnnieLaurie Erickson

Images: Pleasure, Performance, Politics
All Images by AnnieLaurie Erickson