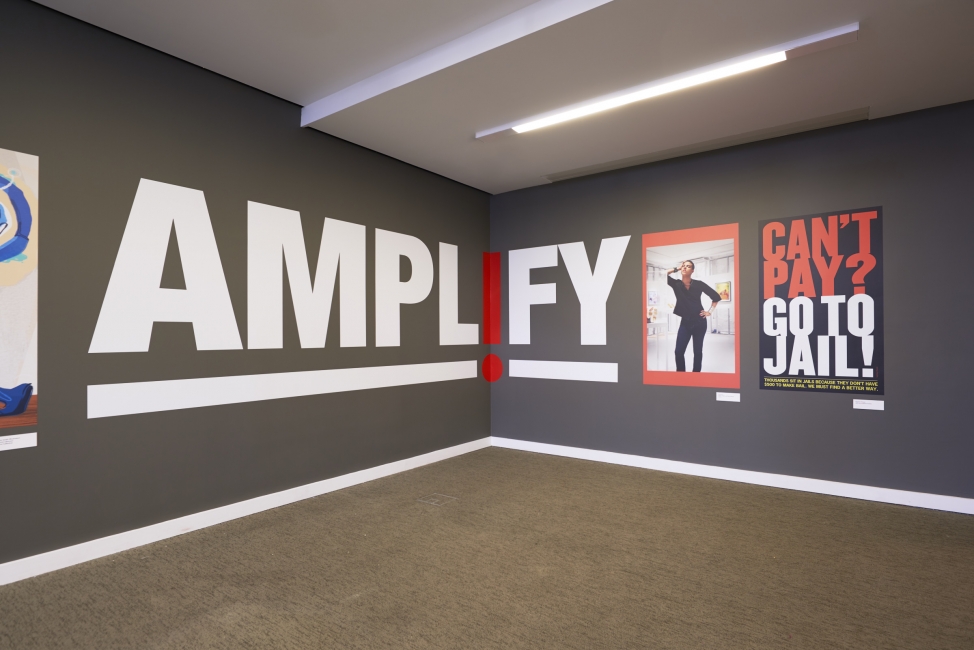 AMPL!FY: Advancing the Front Lines of Social Justice
Organized by Make Art with Purpose and Worldstudio
November 2, 2017 to January 7, 2018
Museum of Arts and Design (NYC, NY)
Project Space – 6th Floor
Featured artists and organizations: Opening Act + Rafael Esquer, 350 + DJ Spooky, Inclusive Collective + Ryan Hartley Smith + Jerron Herron, The Lower East Side Girls Club + OCD | The Original Champions of Design, New Yorkers Against Gun Violence Education Fund + Edel Rodriguez, Revolution Books + Dread Scott, Vera Institute of Justice + Seymour Chwast, Council on American-Islamic Relations + Morehshin Allahyari, Hetrick-Martin Institute + Lissa Rivera, Made in Brownsville + Gail Anderson and Joe Newton
Programs
Performance | Lift by Kyle Marshall Choreography, Co-Presented by Harlem Stage | December 3, 2017
Workshops | Studio Sunday with AMPL!FY Screenprinting Workshop by Leslie Diuguid | December 3, 2017
About the Exhibition
AMPL!FY is a public art and design initiative that partners artists and designers with non-profit organizations working on the front lines of social justice. Through these partnerships, the initiative aims to create thought-provoking posters on themes relevant to each organization. In addition to this exhibition at MAD, the posters will be publicly showcased on art display cases in Manhattan's Financial District, on Water Street between Pine Street and Maiden Lane and on Gouverneur Lane between Water Street and Front Street, in partnership with the New York City Department of Transportation's Art Program (DOT Art).
The goal of this project is to leverage the power of art and design to support and publicize the work of New York City–based non-profits addressing a wide range of social justice concerns. These organizations play a key role in protecting the inherent dignity of New Yorkers, helping the underserved to achieve their full potential and practice uninhibited expression of their rights. The work of these organizations is circuitous and challenging, and frequently lacks visibility.
For more information about this project, visit amplifyjustice.org.
AMPL!FY is organized by Janeil Engelstad of Make Art with Purpose and Mark Randall of Worldstudio in collaboration with the New York City Department of Transportation's Art Program, James King, Managing Director of Harlem Stage, and Danny Orendorff, Manager of Public and Community Engagement Programs for the MAD Education Department.
Exhibition Photos: Jacob Schrueger
Program Photos: Heidi Bohnenkamp