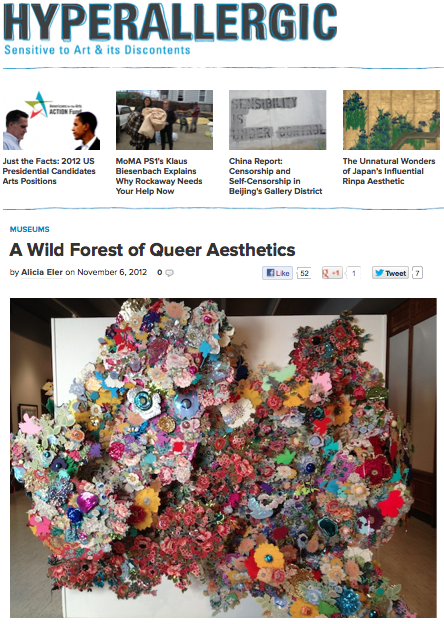 All Good Things Become Wild & Free was reviewed on Hyperallergic by local arts writer, and dedicated supporter of queer arts, Alicia Eler!
Update! Eler has also written a follow-up to her article on the queer art shows that have opened since the summer here in Chicagoland – 3 in total! It's less of a review and more of a opinion/thought piece on the developments in aesthetics termed or argued to be 'queer' recently exhibited around town. Check it out!
It's a very detailed and generous review, I particularly love these lines of hers; "This hodgepodge exhibition is loosely based on the idea of exploring pretty much anything that could be labeled non-normative and unconventional. Its other purpose is to send a not-so-subtle and completely awesome "f-you" to the elitist, capital-"A" art world by exploring work that would probably be considered "lesser than" by art purists."
Check the whole thing out, here! And read her review of The Great Refusal: Taking on New Queer Aesthetics, the exhibition at the Sullivan Gallery for which we BOTH wrote something for the forthcoming catalog! Small world!