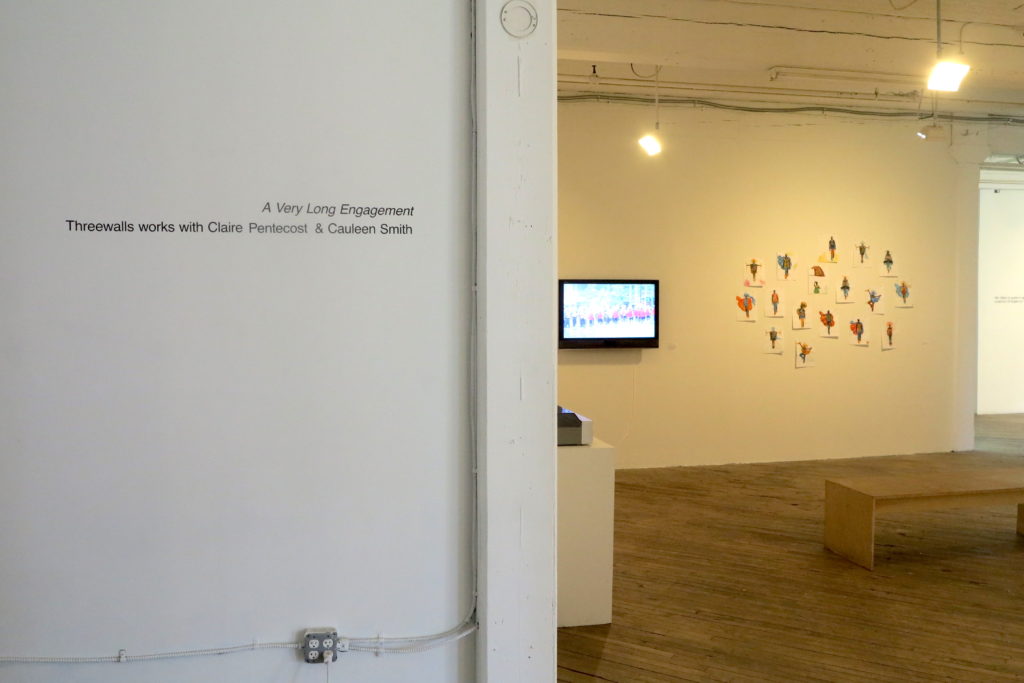 A Very Long Engagement: Claire Pentecost and Cauleen Smith
Curated by Danny Orendorff and Abigail Satinsky
Vox Populi (Philadelphia, PA)
October 2 – October 31, 2015
Artist Website: Claire Pentecost
Artist Website: Cauleen Smith

Images at bottom of page
About the Exhibition
Presented as part of Alternative Currencies, a Philadelphia-based project that gathers independent contemporary arts groups from around the country to share their innovative modes of working, Threewalls presents A Very Long Engagement: Threewalls Works with Claire Pentecost & Cauleen Smith at Vox Populi in Philadelphia, PA.
Opening Friday, October 2 from 6-9PM, A Very Long Engagement highlights two Chicago-based artists (Claire Pentecost & Cauleen Smith, both members of the Threewalls Community Cabinet) with whom Threewalls has had lasting and meaningful relationships. Included will be artwork and publications produced by Pentecost and Smith for the occasion of their respective Threewalls SOLO exhibitions and/or residencies, as well as limited-edition artwork commissioned from both artists as part of the Community Supported Art – Chicago program. The exhibition has been curated to highlight the multiple manners in which Threewalls exhibits, supports, and includes artists at the core of their programs and decision-making.
Other national organizations participating in the exhibition at Vox Populi include Possible Projects (Atlanta), The Luminary(St. Louis), and KCHUNG Radio (Los Angeles).
Alternative Currencies is organized by Grizzly Grizzly Gallery in partnership with The Galleries at Moore College of Art & Design, and coincides with the exhibition Strange Currencies: Art & Action in Mexico City, 1990-2000, on view at The Galleries September 19 – December 12, 2015. Other participating Philadelphia spaces include Rebekah Templeton, Traction Company and Mount Airy Contemporary. For a full line-up of exhibitions and galleries participating in the city-wide project, click here.
On Saturday, October 3, from noon – 4PM, Threewalls' Abigail Satinsky & Danny Orendorff will participate in the symposium Alternative Currencies: Tactics for Staying Relevant and Radical at The Galleries at Moore College of Art & Design. This forum gathers independent contemporary art groups and spaces from around the country in a collective exploration of what it means to be (and stay) "alternative." Using the vibrant artist-run spaces that flourished in Mexico City during the 1990s as a backdrop, a diverse group of artists and organizations will present their own tactics for staying relevant and radical in 2015. More Info.